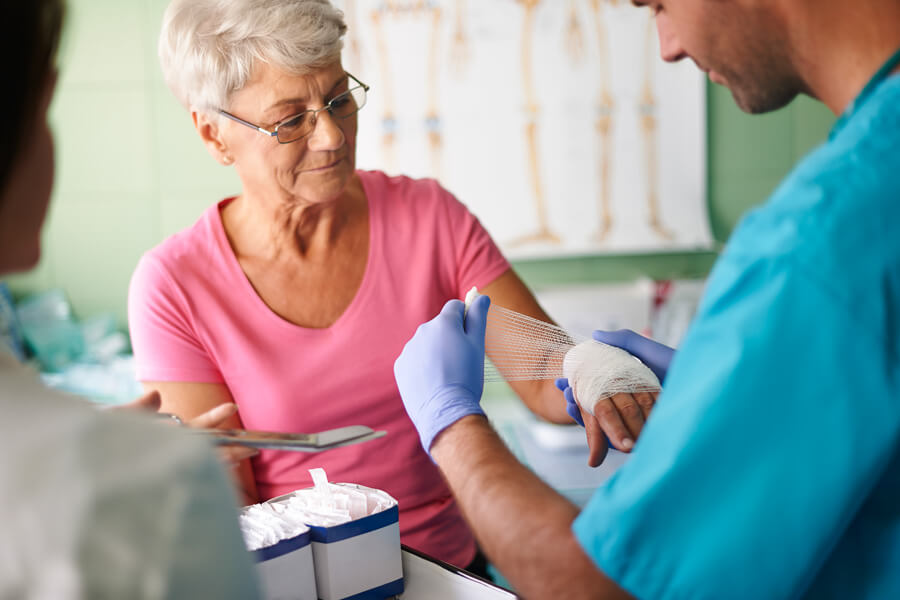 Knowledgeable Team of Professionals
Our staff includes a team of over 100 professionals at each of our 10 locations to ensure you receive the best care possible.
The Liberty Medical Specialties team includes:
Pharmacists
Registered Nurses
Licensed Practical Nurses
Licensed Respiratory Care Practitioners
Certified Dietitians
Certified Pharmacy Technicians
Certified Delivery Technicians
Call or visit a location near you to learn more about our team and to discover our large selection of home medical equipment and healthcare supplies available.
Meet Our Team
Joe Hooks - General Manager and Secretary/Treasurer of the Corporation
Joe is one of the original owners of Liberty Medical Specialties. Joe has been involved in the delivery of healthcare services for over thirty years. His experience includes Purchasing Manager, Operations Manager, as well as Regional Operations Manager for a national medical company. Joe has also served as a liaison for large contracts, as well as Sales Manager for a national infusion provider. Joe has served in several capacities with the North Carolina Association for Medical Equipment Suppliers (NCAMES), including Medicaid and small business committees. Joe is a graduate of East Carolina University as well as Louisburg College.
Mary Hooks, Rph - Director of Clinical Services and Vice President of the Corporation
Mary is one of the original owners of Liberty Medical Specialties and is a Registered Pharmacist. After graduating from UNC-Chapel Hill School of Pharmacy she became the Branch Manager for one of the first infusion pharmacies in North Carolina – Medicare Supply Company. The same pharmacy was later acquired by an infusion care national provider, where Mary oversaw the pharmacy and delivery of home infusion over a tri-state area. She later became Branch Manager for Biomedical Home Care in the Whiteville office until she and her husband Joe opened Liberty Medical Specialties in 1993. Mary has been in the home infusion business for over 30 years. She has experience in sales and marketing as well as the clinical aspect of the business. Mary is a member of ASHP (American Society of Hospital Pharmacist), NHIA (National home Infusion Association) and the North Carolina Association for Medical Equipment Suppliers (NCAMES). Mary Hooks holds a Pharmacy Degree from the University of North Carolina at Chapel Hill. Mary serves on the N. C. Respiratory Care Board.
Angela Dowless, RCP, BS - Clinic Respiratory Services Manager
Angie has over 17 years of experience as a Respiratory Therapist. She earned her Associates degree in Applied Science in 1999 and her Bachelors of Art in Healthcare Administration in 2012. She has been with Liberty Medical Specialties since 2005. Angie has extensive hospital and home care experience including both pediatric and adult critical care, diagnostics, home care, hospice, and DME. She also has experience in program development, compliance programs, and quality assurance/improvement practices.
Christa Clewis, RN - Manager of Nursing Services
Christa has been a nurse since 1979. She started her nursing career as a staff nurse on the pediatric unit at Columbus Regional Medical Hospital. She has extensive hospital and home care experience. She joined the Liberty Healthcare family in 1993. Her duties included being a Field Nurse, Clinical Team Manager, and Home Care Liaison. She later transferred to Liberty Medical Specialties –concentrating in home infusion therapy, DME, risk management and infection control. Christa is a member of the National Home Infusion Association and the Infusion Nursing Society.
Richard Simpson, RPh - Pharmacy Manager
Rick received a Bachelor's Degree in Pharmacy from the Medical College of Virginia in 1984. He has over 24 years of pharmacy and healthcare experience. Rick has over 25 years' experience in a pharmacy/hospital setting, many years as a Retail Pharmacy Manager, and over fifteen years' experience as a Pharmacy/home infusion manager. Rick has been with the Liberty Medical Specialties family since 1999. Rick is a member of the National Home Infusion Association.
Scott Hinson - Sales Manager
Scott has 30 years of experience in healthcare services. He is a graduate of the University of North Carolina at Chapel Hill. During his career, Scott has served as district sales manager for a national DME company, completed branch start-ups, and spent time as a regional sales trainer. He also has marketing experience working for a national infusion therapy provider. In addition, he also has 13 years of experience as branch manager and director of business development for a national franchise and private duty home care provider. He has been with Liberty Medical Specialties since 2007. Scott lives in Chapel Hill and is headquartered in our Durham location.
Anna Johnson - Finance Manager
Anna brings over 25 years of accounting experience to the company. She has been with Liberty Medical Specialties since its inception in 1993. Anna obtained a BS degree from Campbell University in Buies Creek, North Carolina. Prior to working in the home medical equipment industry, she worked as a small business accounting assistant with Ernst & Young and was the Office Manager for Sellers & Bauknight, PA, an accounting firm located in Columbia, SC.
David Chandler, MBA - Director of Reimbursement & Government Affairs
David has been a part of the Liberty Medical Specialties family since 2003. David earned a Bachelor of Science Degree from the College of Charleston and after several years of management experience followed up with a Master's Degree in Business Administration. David has been involved in various leadership roles within Liberty including marketing, operations, and organizational development, reimbursement, and government affairs. David has been an active member of the North Carolina Association for Medical Equipment Services (NCAMES) now Atlantic Coast Medical Equipment Services Association (ACMESA) since 2004. He has served as the Association President from 2014-2015 and continues to serve on the Association's Board of Directors. David is also a member of the Medicare Jurisdiction C Advisory Council and American Association for Homecare Regulatory Council and State Leaders Council. David has worked with numerous elected officials on health care issues and is an active member of a U.S. Representative's Healthcare Advisory Council. David was also elected to the NC Board of Pharmacy – DME Subcommittee in 2016.
Proud Members of a Variety of Organizations
To ensure that you receive the top quality care and healthcare products you deserve, Liberty Medical Specialties is a proud member of several organizations.
National Home Infusion Association
Infusion Nurses Society
Association for Home and Hospice Care of North Carolina
American Society of Health Systems Pharmacists
American Association for Respiratory Care
Med Group